Free Skate Night at The Chiller – October 14th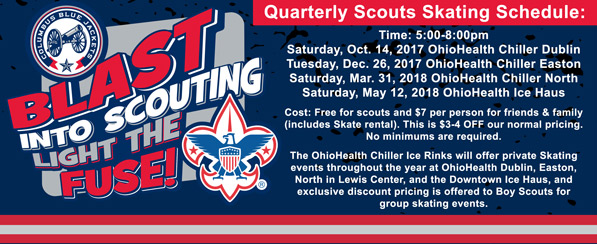 Free Skate Nights 2017-2018
Note, this is not a Pack sponsored event and is optional, but families are encouraged to attend!
When: Saturday, October 14, 2017
Where: Ohio Health Chiller Dublin
Time: 5:00 – 8:00 PM
Cost: Free for Scouts and $7.00 per person for friends & family (includes Skate rental). This is $3-4 OFF normal pricing. No minimums required.
For more details on Free Skate Nights and Private Skating Events, please visit www.thechiller.com/boyscouts
NEW!
Chiller Ice Rinks/Boy Scouts of America
Belt Loop Program
Requirements and Scheduling Information
Scouting Packs will be able to earn their Ice Skating Belt Loops during quarterly Scouts-Only events. The Chiller Ice Rinks will offer private skating events throughout the year at OhioHealth Chiller Dublin, Easton, North in Lewis Center and the Ice Haus downtown, and discount pricing is available to members of the Boy Scouts and their families. The Chillers will provide a list of requirements, related information and safety tips so leaders can focus on fun and safety!
Belt Loop Requirements
• Participate in a family or den skating event for at least three hours.
• Spend at least 30 minutes practicing skating skills.
• Explain ways to protect yourself while ice skating, and the need for proper safety equipment (Chiller will provide safety information upon arrival).
• Belt Loops can be available at the facility concluding the event for a purchase price of $2.50. Purchase early as quantities are limited. Please consider that there are no refunds after the order is placed.